Corel
Product ID: 1746686 | Mfg Part #: ESDPE6MLPCM
$

44.95
Electronic Software Delivery
---
Painter Essentials 6 (Windows/Mac)
Paint Program & Photo Painting Software
Award-winning brushes

Uncomplicated photo art

Innovative illustration tools

Superior speed and performance
New to digital art? No problem!
Corel® Painter® Essentials™ 6 is custom designed to inspire you to freely create blank canvas and photo art creations using award-winning Natural-Media® brushes. As an intuitive paint program, Essentials offers a welcoming environment that will encourage you to have fun while using powerful and realistic art tools to reach your goals. Turn a photo into an amazing oil, pastel or impressionist work of art, or use pencils, pens or particles to paint, draw and sketch on a blank canvas. The best part? Connect with a solid social community of fellow painters who are passionate about painting and providing feedback. There's an artist in all of us.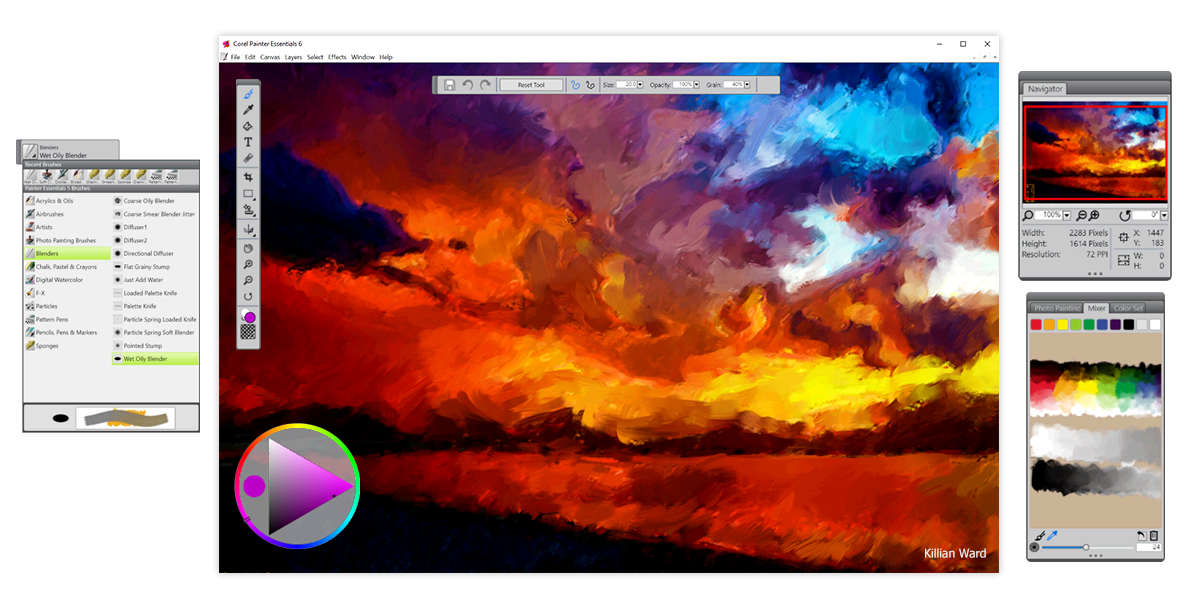 An art studio to suit your imagination
We've got you covered. Whether you are drawing and painting or creating photo art, Essentials has the tools you need to execute your vision and let your art speak volumes.
Updated user interface
Launch the newly designed Welcome Screen to kick start your painting experience. Create new documents and templates, choose from workflow UI layouts, see what is new and exciting in the world of Essentials, access helpful tutorials, view an inspirational art gallery and check out our brush packs for specific workflows.
Dry Natural-Media®
Sketch your vision using the perfect pencil for the job, choose from grainy, thick and thin and scratchboard tool variations. Then, render your masterpiece using an exciting variety of Chalks, Pastels, Crayons & Charcoal including blunt, soft, square, tapered and jitter variants that will suit any task at hand.
Wet Natural-Media®
Create an oil or acrylic painting using clumpy, glazing, flat or filbert brushes, spray fine, coarse or soft airbrush paint all over your canvas, dip in to digital watercolor to wash, spatter or diffuse paint and emulate Impressionist Masters like Sargent and Post-Impressionists like Van Gogh. No matter what, you will have fun experimenting!
Signature Painter media types
Create with unique Painter media types like dynamic Particles that spring, flow and gravitate across canvas, plus F-X effects that sprinkle fairy dust, glow, jitter, shatter, distort and more! Or grab a Pattern Pen to stroke decorative brushstrokes across your canvas like magic.
Smart photo-painting tools
Start off easy using the one-touch Auto-Paint tool. Simply open the photo of your choice, select a painting style and click play. As a must-have paint editor, Essentials will magically paint the photo for you using Smart Stroke technology that follows the lines and contours in your image, no hands required.
Tracing and cloning images
Sketch right over your photo using Tracing Paper as a guide to ensure that your hand drawn composition is perfection or create a one-of-a-kind photo painting by pulling the colors from your photo through any brush allowing you to fill the canvas with hand-hewn strokes.
Symmetry painting
The time-saving Mirror tool reflects your painting on the opposite side of the canvas using your media of choice. Turn on Kaleidoscope and paint using 3-12 reflective segments and create stunning kaleidoscope paintings.
Drawing tablet support
Essentials incorporates pressure sensitive memory that will adapt to your particular touch. Provide a sample of your stroke in the Brush Tracker to globally set sensitivity or save your pressure for each of your favorite brushes allowing Essentials to remember and respond accordingly.
Superior speed and performance
Manage memory-intensive operations, such as working on large canvases, plus zooming, rotating and working with layers, all at top speed. Equally important, your brushes will blaze across the canvas allowing you to focus on painting.
SYSTEM REQUIREMENTS
Windows
Windows 10 (64-Bit), Windows 8.1 (64-Bit), or Windows 7 (64-Bit) (with the latest updates)
Intel Core 2 or AMD Athlon 64 processor, 2 GHz or faster
4 logical cores or higher (recommended)
2 GB RAM (8 GB RAM or higher recommended)
1 GB hard disk space for application files*
Solid-state drive (recommended)
1280 x 800 screen resolution (1920 x 1080 recommended)
Mouse or tablet
DVD drive (required for box installation)
Microsoft Internet Explorer 11 or higher, with the latest updates
To activate your product, you must connect to the Internet and register it first
*Additional space may be required for Microsoft .NET Framework 4.6
Mac
macOS 10.13, 10.12, OS X 10.11 and OS X 10.10, with the latest revision
Multicore Intel processor with 64-bit support
4 logical cores or higher (recommended)
2 GB RAM (8 GB RAM or higher recommended)
750 MB hard disk space for application files
Solid-state drive (recommended)
1280 x 800 screen resolution (1920 x 1080 recommended)
Mouse or tablet
DVD drive (required for box installation)
To activate your product, you must connect to the Internet and register it first
---