Corel
Product ID: 1782810 | Mfg Part #: ESDPSP2020ULML
$

89.95
Electronic Software Delivery
---
PaintShop Pro 2020 Ultimate
The ultimate photo editing software & creative collection
Ultimate Exclusive Applications:
New!

Graphics Studio - Access thousands of the most popular photo effects to transform your images instantly.

New!

Parallels Toolbox - An economical suite of tools replaces the need for multiple apps on your computer.
PhotoMirage Express – Effortlessly transform any image into a mesmerizing animation in a matter of minutes.
Corel Painter Essentials 6 – Learn to paint, draw and sketch from scratch with this easy to use painting program.
Corel AfterShot 3 – Quickly adjust and manage even large photo collections, and enhance RAW files.
Corel Creative Collection – Includes dozens of brushes, textures and royalty-free backgrounds.
What's New:
SmartClone
Clone technology at its finest. The all-new, content-aware SmartClone feature allows you to easily merge elements from multiple images and seamlessly integrate them into one. SmartClone capabilities are diverse and can be used for simple retouches to interesting designs and compositions.
Photography Workspace
Touch-ready, highly simplified workspace that allows you to focus exclusively on quick photo edits for wow-factor results.
Refine Brush
The Selection tool just got so much stronger. A Refine Brush has been added to your Selection toolset to enable you to select an object with extreme precision and accuracy, down to a single strand of hair. You'll have to see it to believe it.
Features fueling your photo editingsoftware
Get exactly the results you want with PaintShop Pro's innovative tools and features. Enjoy a full-featured photo and design toolset to help you create just about anything with ease.
Layers and Masks
Retouch and restore
Draw and paint
Artificial Intelligence
360° photo editing
RAW Lab
HDR effects
Batch processing
Templates
Plugin support
User inspired features
PaintShop Pro continues to be inspired by its users whose feedback is the driving force behind every innovation.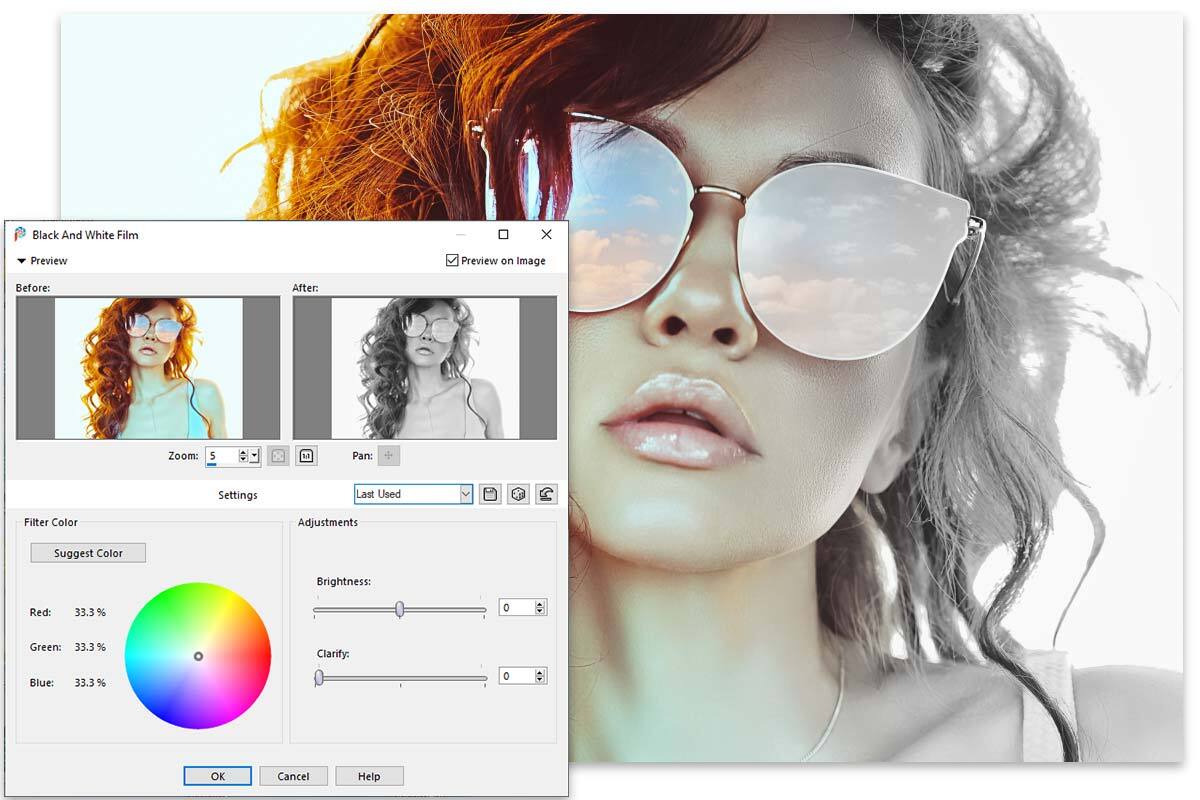 Powerful adjustment tools
Edit, crop, resize, remove noise, sharpen, enhance colors, use curves and levels and correct photos taken with a 360-degree camera by rotating or making them level or producing 'planet-like' effects.
Precise retouching
Touch up your photos with high precision selection or cloning tools, photo restoration, makeover tools and flaw removal effects. Fix lens issues, distortions and chromatic aberrations with intuitive functions.
Artistic photo compositions
Use multiple layers and masks to create incredible photos and graphic design projects. Add your special touch with painting and drawing tools and creative content like patterns, gradients and colour palettes.
Complete RAW & HDR control
PaintShop Pro's RAW lab arms you with powerful RAW image editing capabilities, including before and after preview options. Create stunning HDR photos by combining multiple exposures.
Save time
Work faster with batch processing and scripts and support for nearly any file format you want.
System Requirements for PaintShop Pro 2020
Windows 10, Windows 8/8.1, Windows 7 (Pic-to-Painting requires Windows 10)
4GB of RAM; 3GB of available hard-disk space
1366 x 768 resolution with 16-bit color display
DirectX 9 or higher compatible video adapter
Intel Core i-series or AMD Phenom II and above
Internet Explorer version 10 or higher
Internet connection required for installation, registration, online features and tutorial videos.
Import Formats Supported
AI, BMP, CAL, CALS, CGM, CLP, CUR, CUT, DCX, DIB, EMF, EPS,GIF, HDP, IFF, IMG, J2C, J2K, JIF, JP2, JPC, JPE, JPEG, JPG, JPS, JPX, MAC, MPO, MRW, MSP, PBM, PCD*, PCT, PCX, PDF, PGM, PIC, PICT, PNG, PNS, PPM, PS, PSD, PSP (PSP image files), RAS, RAW, RIF, RLE, SCT, SVG, SVGZ, TGA, TIF, UFO, WBM, WBMP, WDP, WEBP, WMF, WPG**
RAW file support for over 650 camera models, including the following file extensions: 3FR, ARW, CR2, CRW, DCR, DNG, K25, KDC, NEF, NRW, ORF, PEF, RAF, RW2, SR2, SRF, X3F (Visit full model list)
Export Formats Supported
BMP, CAL, CALS, CLP, CUT, DCX, DIB, EMF, EPS, AI, PS, GIF, GIF, HDP, WDP, IFF, IMG, JP2, J2C, J2K, JPC, JPX, JPG, JIF, JPE, JPEG, MAC, MSP, PBM, PCX, PGM, PIC, PPM, PNG, PSD, PSP (PSPIMAGE FILES), RAS, RAW, RIF, RIFF, RLE, SCT, CT, JPS, PNS, TGA, TGA, TIF, TIFF, WBMP, WBM, WEBP, WMF
Brush Formats
PaintShop Pro Brush (.pspbrush)
Adobe Photoshop Brush (.abr)
Jasc Brush (.jbr)
---